Are you curious about our new office space and want an update on its progress? In this video, we're going to tour the new office with our preferred lender, Omar Diaz with Fairway Mortgage. We'll explain what the vision is for our new office as well as what is currently delaying our buildout.
An Unexpected Delay
It has been a long, 6-month battle to get to where we currently are with our new office space. The deal started off great but turned very sour, and attorneys had to get involved. Fortunately, we were able to close on the office on June 9, 2022.
We thought we performed all of our due diligence during our contract period prior to closing. This includes receiving the condominium documents, performing a full inspection, ordering a title and lien search, contacting the association, and more. Soon, however, we realized we could've done a little more.
Everything seemed okay until we began our demolition process. The contractors were removing all the walls when the issue was uncovered. They thought they were tearing down one of our interior walls when they realized it was the neighbor's bathroom that adjoins our space. 
A Deeper Dive
We visited the neighbor's unit to inspect the damages. We saw that we had broken a piece of their shower, but this is where we realized something was off. Who has a shower in a commercial space? Was this even permitted? These and many other questions encouraged us to do a deeper dive. 
We looked through our condominium documents again and noticed that the survey of the building showed that our unit went straight back in a rectangular shape. It encompassed what was presumably part of the neighbor's bathroom and shower. 
When measuring out our unit's space and comparing it to the square feet reported on public tax record data, we discovered a shortage in our available square feet. The discrepancy noted was similar to what we could visibly see and measure in our unit that would otherwise constitute the neighbor's bathroom and shower.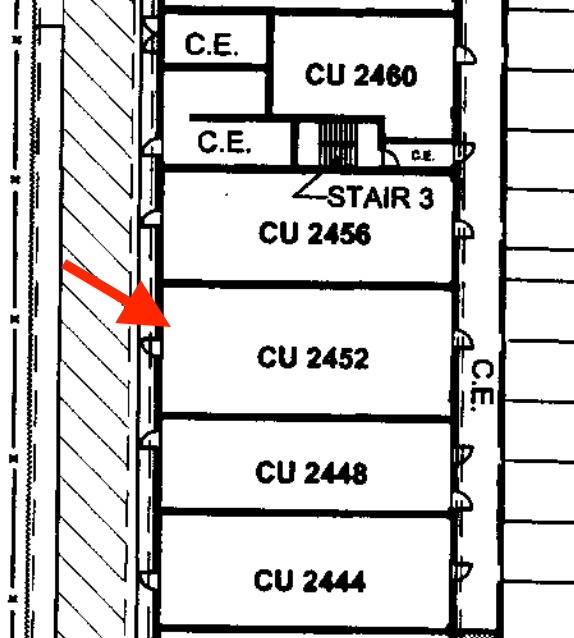 Working With BOSS Construction
Our next step was to hire BOSS Construction, a general contractor who specializes in code violations and permit issues. We learned that the bathroom and shower were not permitted and do not meet building, mechanical, electrical, plumbing, and fire code compliance. They were also encroaching into our unit.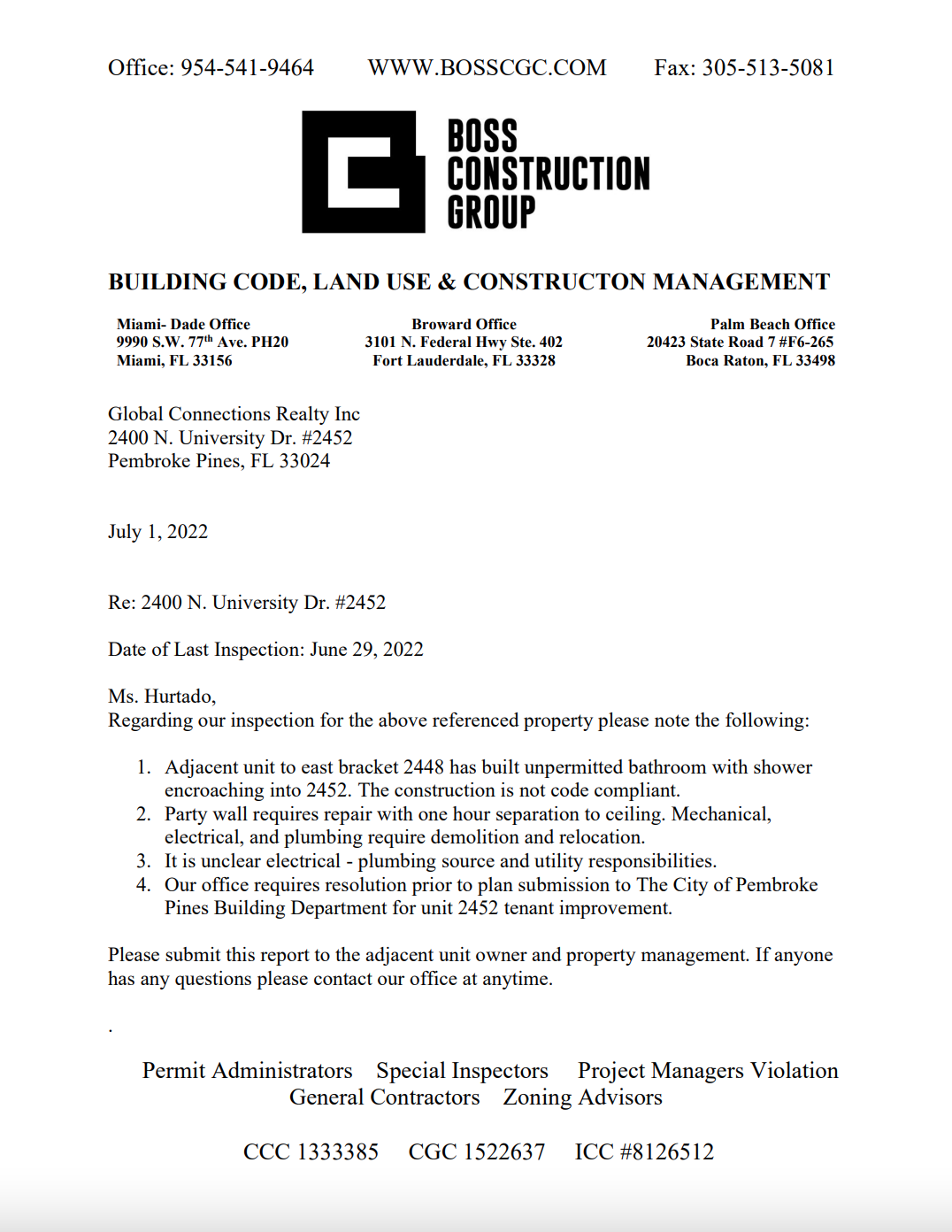 Additionally, the hot water heater and plumbing supply lines for the neighbor's bathroom were located and running through our unit, and the party/firewall had been altered. These are all very serious and potentially dangerous violations. 
Due Diligence
Encroachment happens when someone traverses boundaries outlined in a survey, violating the property rights of another property owner. Unlike residential real estate transactions, there is generally no duty for sellers to disclose material facts. This impacts the value of a property when it comes to commercial real estate transactions—and a mere non-disclosure of a material fact may not be unlawful. 
For this reason, we recommend taking the following actions during your commercial contract's due diligence period to mitigate your risks:
Request a floor plan

Hire a general contractor to scope out and measure the property's square feet

Check the party walls to determine what material was used to divide the units. Is it drywall or concrete?

Ask the seller if there are any pre-existing arrangements made with neighboring units that affect the subject property's square footage and may be considered an encroachment

Talk to the neighboring units and ask them if you can tour their unit. Explain that you intend to do a full demolition and want to ensure you don't damage any of their adjoining walls. Also, ask them the same question on #4

Review all easements in the public record that pertain to the subject property

Inquire with the city (and the condo association if applicable) about the space and whether there are any permits/improvements involving the subject property or neighboring units
Know Your Floor Plan
As you can see, you need to make sure that you build pretty much everything when you're doing commercials. Second, once you actually start your demolition, you'll start seeing where your property lies and whether somebody is encroaching on your space. 
When you're purchasing commercial space, I recommend always trying to get a floor plan ahead of time so you actually know where your limits are. This is because the survey that's done will only be for the outside of the building, which won't help you. Additionally, title searches and lien searches will not help you there either. 
I hope you learned a lot about the process and have a good idea of where we're at with our office. Make sure you subscribe to my channel so you never miss a video, and stay tuned for future updates!